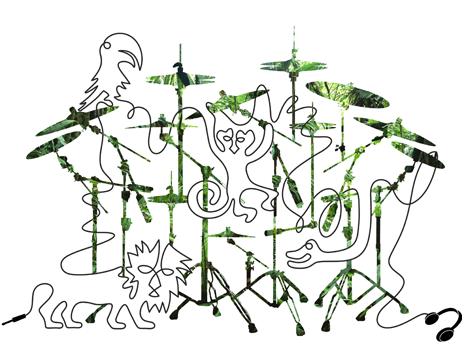 Intelligent Jungle Music (IJM) is a sub-genre of "Apache" breaks influenced electronic dance music and has many similarities to jungle and drum'n'bass. It also shares many similarities with Intelligent Dance Music (IDM) and has many influences from experimental electronic. IJM has an extremely wide range of tones and themes, it is innovative and creative and is often breaking some kind of norms.
IJM is also any jungle or dnb track that inspires intellectual curiosity.
Intelligent Jungle Music (IJM) List
The below list is a selection of top IJM tracks released during the last two or three decades.
wisp - among the pines
wisp - beadumaegen
barry - lynn metric cypher
the flashbulb - ray of moisture
the flashbulb - transient skip
squarepusher - every day i love
the criminal minds - re-baptised by dub - selectors revenge
mu-ziq brace yourself - jason
aphex twin - windowlicker seiswork remix
sixteenarmedjack - sound clash master
krinjah - junglist burial
squarepusher - do you know squarepusher
cutty ranks - limb by limb soundmurderer remix
urban junglist feat smiley culture every - little thing
squarepusher - tetra sync
bogdan raczynski - untitled 14
the flashbulb - we the dispelled
tycho - past is prologue
krinjah - never skeered bananas nyc mix
ron tom - pirates
amon tobin - dream sequence
squarepusher - my red hot car
origin unknown - valley of the shadows awake 96 remix
capital j - bittersweet symphony
krinjah - standby
squarepusher - dark steering
rebel mc - get ready all junglist
soundmurderer and sk 1 - call da police
aphex twin - vordhosbn
soundmurderer and sk 1 - bad sound
venetian snares - americanized
topcat tenor fly - tease dem
st germain - alabama blues wax doctor mix
omni trio - torn
00 - soul hunter testifies
asian dub foundation - culture move
aphex twin - lichen wisp remix
dr lefty - ah shwe bah featuring admiral t
squarepusher - port rhombus
enduser - vishnus eastern block line 47 remix
squarepusher - theme from ernest borgnine
the flashbulb - the big orange love
wisp - moss on stone
wisp - trees like toys
nkogliaz - soundbwoy killah
squarepusher - go spastic
the winstons - amen brother breakage remix
venetian snares - my so called life
the flashbulb - passage d neus remix
the flashbulb - passage d
the flashbulb - untitled love song
enduser - wreckin shit
don lewi - greeting
the flashbulb - black lawn finale
mu ziq - midwinter log
mu ziq - my little beautiful
mu ziq - hasty boom alert
aphex twin - flim
bogdan raczynski - ahou bouken
whitney houston vs illfingas - my dub is your dub
dj c - billy jungle
john scofield trio - house of the rising sun
squarepusher - the modern bass guitar
dj red alert and mike slammer - in effect
venetian snares - hiszekeny
the flashbulb - tomorrow untrodden
sixteenarmedjack - renegade snares
sixteenarmedjack - renegade terrorist
twinhooker - sacrament
prizna feat demolition man - fire urban shakedown mix
shidlas - cia ne afrika ir ne jamaika
future sound of london - papua new guinea nu tone remix
prodigy - voodoo people pendulum remix
jungle brothers - jungle brother aphrodite remix
noisia ft amon tobin - sunhammer
amon tobin - nightlife
squarepusher - beep street
squarepusher - tundra 4
mu ziq - summer living
urban shakedown - arsonist
wisp - all his might
the flashbulb - air nad adrian
aaron spectre - look out fi liar
dawn penn bounty killer - you dont love me no no no
talvin singh - butterfly
scarface - never seen a man die 4hero remix
chris clark - lord of the dance
hrvatski - vatstep dsp
potential bad boy feat uk apachi - every man has a right
congo natty - junglist
end - countdown to the end still counting
squarepusher - come on my selector
liondub feat richie spice - run red
prodigy - out of space remix by sixteenarmedjack
dj ss vs prodigy - no good remix
wisp - to draw something beautiful
venetian snares - szerencsetlen
dj c - gone a
roni size - it's a jazzy thing
uk apachi soundman - junglist girls
venetian snares - duffy
drop the lime - dubbio
drop the lime - tarentella mega
dj food - scratch yer head squarepusher mix
john scofield - jungle fiction
aphex twin - on sixteenarmedjack remix
amon tobin - piranha breaks
uk apachi feat shy fx - original nuttah bhangra remix
squarepusher - papalon
talvin singh - jaan
the flashbulb - lawn wake iv black
aphex twin - come to daddy
aaron spectre - you dont know
jahba - bob
the flashbulb - dishevel
squarepusher - the exploding psychology
t power - horny mutant jazz
rich kid panacea - badman anthem remix
clifford gilberto - a different forest
voidstarrunner - basscataz
sixteenarmedjack 16aj - mash up the place
the flashbulb - lucid bass
clint mansell - pi r2
wisp - seaway trail
the state of bengal - flight ic408
chris clark - bricks